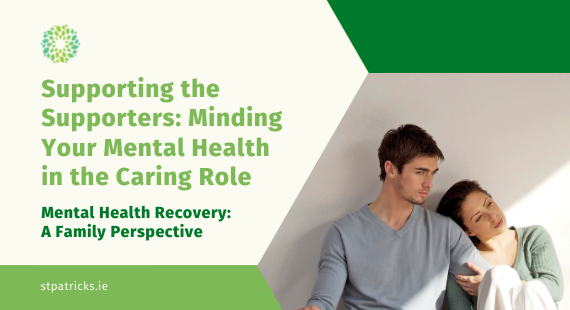 St Patrick's Mental Health Services (SPMHS) invites you to a webinar on minding your mental health while in a caring role.
Taking place from 7.30pm on Tuesday, 14 June 2022, this webinar is part of our Mental Health Recovery: A Family Perspective series.
It focuses on supporting the supporters and gives guidance on how to look after your own wellbeing as a carer.
Elaine Donnelly and Niamh Fox from the Social Work Department here at SPMHS will lead the webinar, which is being especially held to coincide with Carers Week 2022.
Registration is free but essential.
See more supports for carers
From watching back previous events in our family information series to downloading our Carers and Supporters Information Guide, you can access lots of information and resources to help you support someone going through a mental health difficulty here on our website. Find out more below.