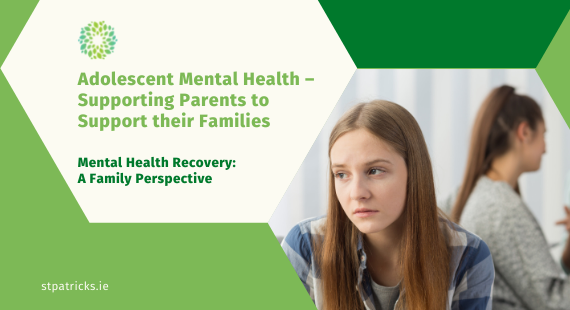 St Patrick's Mental Health Services (SPMHS) is hosting the fifth webinar in the family information series on 8 February.
The next webinar in our Mental Health Recovery: A Family Perspective series focuses on Adolescent Mental Health – Supporting Parents to Support their Families. Noelle Meehan, Systemic Family Therapist in SPMHS, gives information on adolescent mental health.
This fifth webinar aims to help parents in their supporting role as they care for their adolescent, their other children and themselves. We will acknowledge common emotional experiences and difficulties, name common issues arising in families where an adolescent is experiencing a mental health difficulty and identify strategies to respond to your child in helpful ways. Using these strategies, you will be able to navigate the journey to recovery together.
When supporting a loved one in mental health recovery, family members often find it challenging to access simple practical information on mental ill health, services, support and self care. This webinar aims to address any questions or concerns you, as a carer, may have.
Find out more about support for families and carers
There is support available for those who are caring for someone with mental health difficulties.
Read about our family information series
As part of the series, we will host a webinar each month focusing on a particular mental health concern from the perspective of the family or carers. Visit this page to learn more about the series and to watch the recordings of the previous webinars.