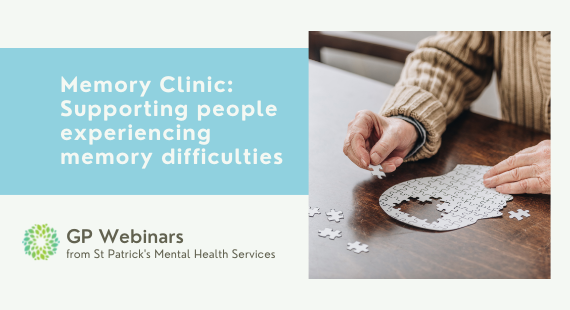 St Patrick's Mental Health Services (SPMHS) invites GPs and healthcare professionals to our 2021 series of GP Webinars.
The Memory Clinic at SPMHS offers a comprehensive, multi-disciplinary diagnostic assessment of service users who present with a range of memory and cognitive difficulties. The purpose is to accurately define, describe and diagnose any underlying clinical conditions, as well as to compile a detailed plan of management to remit the difficulties.
In this one hour webinar, presenters Dr Karen Looney, Principal Clinical Neuropsychologist and Dr Sarah O'Dwyer, Consultant Psychiatrist, will describe the work of the Memory Clinic and discuss a variety of related topics such as cognitive screening tools and normal versus cognitive changes more likely to reflect an underlying clinical condition.
The webinar is recognised for one Continuous Professional Development (CPD) point with the Irish College of General Practitioners (ICGP). Please note that only those who attend the live webinar are eligible for CPD points.
Find more supports and resources for GPs