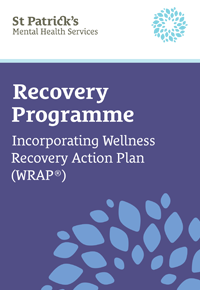 The Wellness Recovery Action Plan (WRAP®) is a structured system for monitoring uncomfortable and distressing signs, feelings and behaviours. Through a planned response WRAP® aims to reduce, modify or eliminate those signs, feelings and behaviours. WRAP® also included plans for responses from others when your symptoms make it impossible for you to continue to make decisions, take care of yourself and keep yourself safe.
This system was developed by people who have been dealing with mental health difficulties including addictive disorders for many years and who are working hard to feel better and get on with their lives. However, it can be used to address other illnesses like diabetes or heart disease and life issues like weight loss and maintaining wellness.
Developing a Wellness Recovery Action Plan (WRAP®) is not a process that can be completed and forgotten. It is a day by day guide to living and will need to be changed over time as you change. Developing this plan with the support of another person or with a group can enhance the experience, provide increased self awareness and understanding.
Recovery Programme