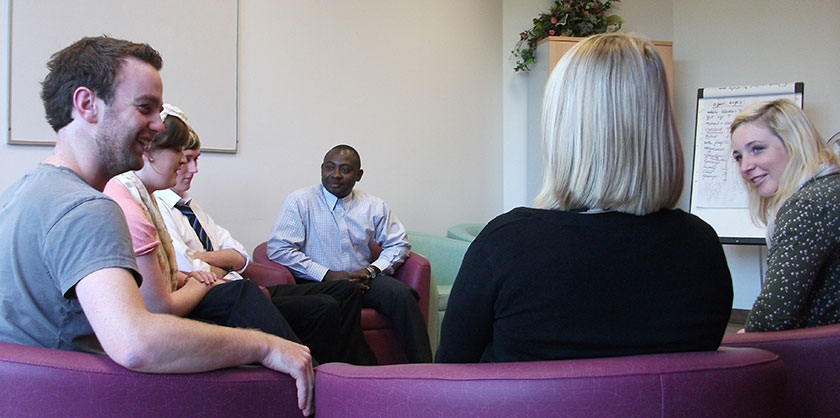 At St Patrick's Mental Health Services (SPMHS), we offer a range of day services to support you to continue your mental health recovery after you are discharged from hospital.
We aim to deliver care and treatment in the least restrictive environment possible. Our day services are developed with this in mind by enabling you to attend clinical programmes after finishing inpatient or homecare treatment or following a referral from one of our Dean Clinics.
Day services are a central part of many of our service users' treatment pathways. They are made up of a number of programmes that relate to your diagnosis or particular mental health difficulty. These programmes are delivered on one to four half days per week and last anything between three to 20 weeks. Between 12 and 14 service users can take part.
The structure of all day programmes is based on evidence, clinical best practice and international standards of care. They are run by clinically experienced and appropriately qualified mental health professionals from a variety of disciplines including medicine, nursing, cognitive behavioural therapy (CBT), psychotherapy, social work, psychology, occupational therapy and pharmacy.
Tags: Day programmes GPs
Programme categories
Programmes fall broadly into three categories; diagnosis-specific, recovery-based and psychological. Each of these aims to assist you in your recovery and helping you to stay well through education, skills, problem-solving and understanding your mental health difficulty.
Diagnosis-specific programmes

Diagnosis-specific programmes focus on helping you to learn about symptoms and how to manage them. They share current research relating to diagnosis and treatment options.

Recovery-based programmes

Recovery-based programmes focus on recognising the signs of mental ill-health, preventing and managing crisis, and getting support.

Psychological programmes

Psychological programmes explore how our thinking and emotions affect our mental health. They focus on symptom management, self-compassion, coping strategies and problem-solving.
Open and closed programmes
Most day programmes are closed. This means that they start on a particular day and end some weeks later. You cannot join a closed programme after the start date. This is to ensure that groups can bond and come together, working in a logical flow.
Some day programmes are open, which means that you can join them at any time. These are based on series of standalone modules.
If you are referred to or are attending a programme, it will have been identified to best suit your needs and support your recovery, whether it is open or closed. You may attend more than one programme as part of your recovery; this will be agreed with you as part of your care plan.
Referrals
If you are a service user at SPMHS, including our inpatient or homecare services and Dean Clinics, you can be referred to a programme by a member of your multidisciplinary team.
If you are not under our care, you can be referred for assessment by your general practitioner (GP). If you are referred by your GP, you will receive a free-of-charge telephone assessment with our Referral and Assessment team. This assessment will allow our clinicians to identify your needs and to ensure your treatment pathway best meets these needs.
Following referral and assessment, your health insurance is checked to ensure it covers the programme. A clinician from the programme will then arrange an appointment with you to ensure that the programme is suitable for your needs.
Please note that, while open programmes generally provide immediate access, waiting times may be in place on some closed programmes.