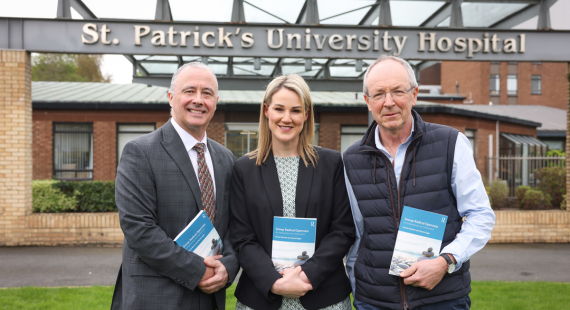 A new book, which explores a model of treatment developed here in St Patrick's Mental Health Services (SPMHS) and now practiced internationally, has launched.
Group Radical Openness: An Intervention for Overcontrol is written by Dr Rachel Egan, Principal Clinical Psychologist here in SPMHS, and Dr Richard Booth, our former Director of Psychology.
In the book, Dr Egan and Dr Booth introduce the model of treatment called Group Radical Openness (GRO), an innovative group therapy programme. GRO is aimed at supporting people experiencing mental health difficulties  associated with overcontrol, such as mood disorders, eating disorders and certain personality disorders.
Overcontrol is a style of coping that includes keeping others at a distance, having a strong desire for order and control, and having difficulty experiencing and expressing emotions. It often develops in early life in an effort to feel safe.
Overcontrol can become costly and lead to difficulties, such as a deep sense of loneliness, which, along with isolation, is one of the biggest predictors of mental health difficulties.
Exploring GRO
The book opens with the background and evolution of GRO and supports clinicians with a guide and tools on how to assess overcontrol and implement GRO practices.  
GRO is a 27-session programme that takes place over a five-month period; this includes an individual reflection session approximately midway through the programme and a final individual session when the group is over. It is a transdiagnostic group, meaning that people who attend may have different diagnoses, but will all share common overcontrolled ways of coping. 
As a closed group, all participants begin and end the programme at the same time to help build connection and belongingness. Together, the group works on the three core themes of overcontrol; distance in relationships, rigidity, and inhibited emotion. The therapeutic process facilitates developing understanding, awareness and insight into each person's struggles with overcontrol.
The treatment programme has been very well received by service users. Since it began eight years ago, over 400 service users have participated in the programme. One such participant said:
"GRO is an incredible programme, delivered with empathy, integrity and honesty, it helps to build a safe space for us to become more open."
They continued, "It has had long lasting positive outcomes for me and what I've learnt and experienced has become an integral part of my everyday life. A huge congratulations to Rachel and Richard for creating a programme as impactful and meaningful as GRO."
Since its inception, the GRO model is being practised in a range of centres across Ireland and the United Kingdom, including personality disorder units, prisons, and eating disorder programmes, as well as in community mental health settings.
Making a meaningful impact
Speaking at the book launch in St Patrick's University Hospital in April, Dr Rachel Egan said:
"Overcontrol can have a devastating effect on people's lives, often with loneliness at its centre. GRO has the potential to transform the way we approach mental health treatment. By focusing on the importance of connection and co-regulation, we can empower individuals to take an active role in their own healing process."
"SPMHS strives to be at the forefront of research and developing new and responsive models of care. It is through this dedication to research that innovative programmes such as GRO can be developed, allowing us to make a meaningful impact in the lives of those experiencing mental health difficulties."
Dr Richard Booth said: "We have seen consistent improvements in traits associated with overcontrol from those who have completed the GRO programme, and it is exciting that a mental health treatment developed in Ireland is already attracting international interest. It is important to foster innovation and embrace new models of treatment, and we're thrilled that we'll be able to expand the reach of GRO through the publication of this new book."
Press and media queries
If you would like a copy of the press release for this story, or if you would like to make a media query, please get in touch with our Communications team below.