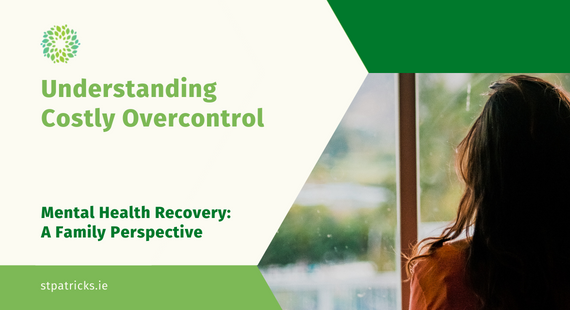 The family information series from the Social Work team at St Patrick's Mental Health Services (SPMHS) continues with a webinar focusing on overcontrol.
Understanding Costly Overcontrol is part of our Mental Health Recovery: A Family Perspective series.
Overcontrol is often thought of as too much "self-control". It underlies a range of mental health difficulties. A common factor for people who struggle with overcontrol is a deep sense of loneliness.
This webinar explores what costly and harmful overcontrol looks like and its impact on people's lives. Rachel Egan and Georgina Heffernan will present on the topic.
Rachel and Georgina discuss:
the difficulties associated with overcontrol
how family members can identify these difficulties
how families can support their loved ones.
They also talk about the treatment available in SPMHS, a novel group intervention called Group Radical Openness.
 Registration for this event, which took place in October 2022, is closed, but you can watch the webinar back below.
More on the family information series
When supporting a loved one in mental health recovery, it can be challenging for carers and family members to find simple, practical information on mental health, support options, and self-care.
This series aims to address the kinds of questions or concerns carers and family members may have. Each month, members of our team host a webinar focusing on a particular mental health concern from the perspective of the family or carers.
If you would like more information on where you can find support as a carer for someone with mental health difficulties, visit the Carers and Supporters page on our website or download a copy of our Carers and Supporters Information Guide.