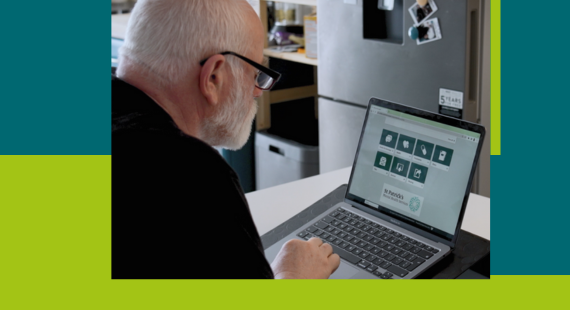 Following a successful pilot project, improvements to how inpatient service users can monitor and contribute to their care plans have been rolled out in Your Portal.
Your Portal is our secure, online service which empowers our service users to view and actively engage with their mental health care and treatment here in St Patrick's Mental Health Services (SPMHS).
All adult inpatient service users who are registered to use Your Portal will now be able to:
Complete their Service User Expectations Form on admission through Your Portal
See their key worker information in Your Portal
Fill out the weekly Service User Views and Opinions form in Your Portal
Have access to the most up-to-date version of their care plan in Your Portal.
This additional functionality aims to help our service users to communicate as effectively as possible with their multidisciplinary team (MDT), which is the diverse group of mental health professionals  working with the service user to best understand and meet their needs. The MDT develops an individual care plan with the service user to set out steps, tools, and targets for their mental health recovery; being able to use the portal in this broader way further support service users' involvement in their care plan.
The Digital Health team here in SPMHS; the portal provider, Patient Knows Best (PKB); the clinical team in SPMHS; and the Remote Care Advisory Forum, a group of former service users who actively contribute to our digital health services, all collaborated to develop these features. The features are connected directly with our electronic health record, eSwift, which our MDTs use to manage the service user's care.
These features were tested in a pilot project which began with a specific group of inpatient service users in November 2022. Following a trial period over a number of months and with positive feedback from service users and clinicians, our Clinical Governance Committee approved the roll-out of the features for all adult inpatient service users.
You can find out more about what to expect as an adult inpatient service user using Your Portal in the video below, or keep scrolling to learn more about these new features.
Service User Expectations form
Adult inpatient service users can now complete the Service User Expectations Form online shortly after their admission.
The Service User Expectations Form collects information from service users on what they expect and hope for from their care in SPMHS.  The service user's answers to the form go into eSwift, where the MDT can review them. The MDT uses these responses in the first MDT meeting to make sure the service user's perspectives are carried into their mental health care plan.
The service user will also be able to see a copy of the completed form at any time in Your Portal so that they always have a record of their responses to this form.
Watch a video on how to complete forms in Your Portal here.
Key worker
A key worker is the health professional who acts as a link between the service user and their MDT, ensures the MDT and service user continue to have shared goals, and oversees that the service user's care plan is running effectively.
Adult inpatient service users can now easily see who their key worker is in Your Portal. This makes it easier to get information about and improve communications with key workers.
If a service user's key worker changes during their care for any reason, information will automatically update in Your Portal and the service user will get notifications of this.
Service User Views and Opinions form
The Service User Views and Opinions form can now be completed by adult inpatient service users in Your Portal each week.
This form invites the service user to give their thoughts on how their care plan is progressing. Ahead of each weekly MDT meeting, a member of the service user's MDT will ask them to fill out the form. Answers to the completed will show for the MDT in eSwift. The MDT can then use the service user's answers in its weekly meeting to help inform the development of their care plan.
The service user can also see each completed form in Your Portal at any time.
Care plan
Between each meeting of an adult inpatient service user's MDT, the service user's key worker will send an updated care plan to Your Portal. This means the service user will be able to see the most up-to-date version of their care plan. This version will remain in Your Portal, even after the care plan is updated again, so that all past versions of the care plan can be viewed at any time the service user wishes.
Support
If you have any questions about these new features in Your Portal, you can get in touch with our Service User IT Support (SUITS) team by emailing suits@stpatricks.ie or calling 01 249 3629.
Learn more
Find out more about Your Portal and see guides on how to use it below.