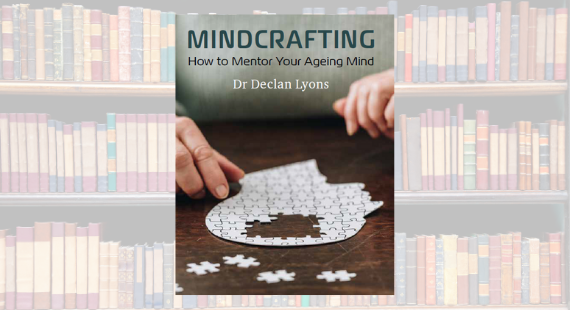 Consultant Psychiatrist here at St Patrick's Mental Health Services (SPMHS), Dr Declan Lyons, has released a new book on helping older people continue to live full and rewarding lives.
In Mindcrafting: How to Mentor Your Ageing Mind, Dr Lyons dispels the negative stereotypes around ageing and explores the professional services available to help older people realise the abundant gifts of later life.
Meeting our needs as we age
Our later years offer many opportunities for personal growth and renewal. They can also bring a time of challenges and difficult changes.
The book showcases the benefits of continued activity and engagement and, with this, the sense of meaning and pleasure that can be reached in later years.
Throughout the book, Dr Lyons refers to the set of organising ideas or framework known as "the Human Givens", originally put together by Joe Griffin and Ivan Tyrrell. This framework is a useful description of how people function in terms of meeting key emotional needs and how we have the tools - such as intuition, memory and enhanced awareness - to meet these needs.
Dr Lyons notes that, if key emotional and psychological needs are met and balanced in a healthy way, mental health difficulties can be significantly reduced. This principle applies not just to individual people, but to communities, wider society and humankind. The best way to ease psychological distress or dysfunction is by using our own innate resources. For Dr Lyons, this framework of needs and resource awareness is the basis for flourishing in later years.
Ageing successfully
Dr Lyons says, "In essence, the idea that motivated the book Mindcrafting: How to Mentor Your Ageing Mind was to encourage older people to take controlled risks in their lives, rather than adopting a safety-first approach, to continue to view their lives as an adventure and to commit to see what was around the next corner by remaining enthusiastic and engaged in as many aspects of life as possible."
"Opportunities for full participation by older people in society depend on their ability to remain hopeful and, at the same time, accept change and loss with grace and determination. The demonstration of continued zeal to reach out and try new things (even the dreaded technology) that might improve their lives and, above all, to remain enthusiastic and committed is, for many, the secret sauce of successful ageing."
Dr Lyons' previous publications include The Evergreen Guide: Helping People to Survive and Thrive in Later Years (2014) and The Time of Your Later Life: Reflections on Ageing with Attitude (2018).
Learn more about older adult mental health
Read articles, watch videos or hear podcasts on some common mental health challenges as we get older, and what we can do to support ourselves through them.
See more on our services for older adult mental health
Dr Lyons is part of the team leading our dedicated mental health services for adults aged 65 and older.