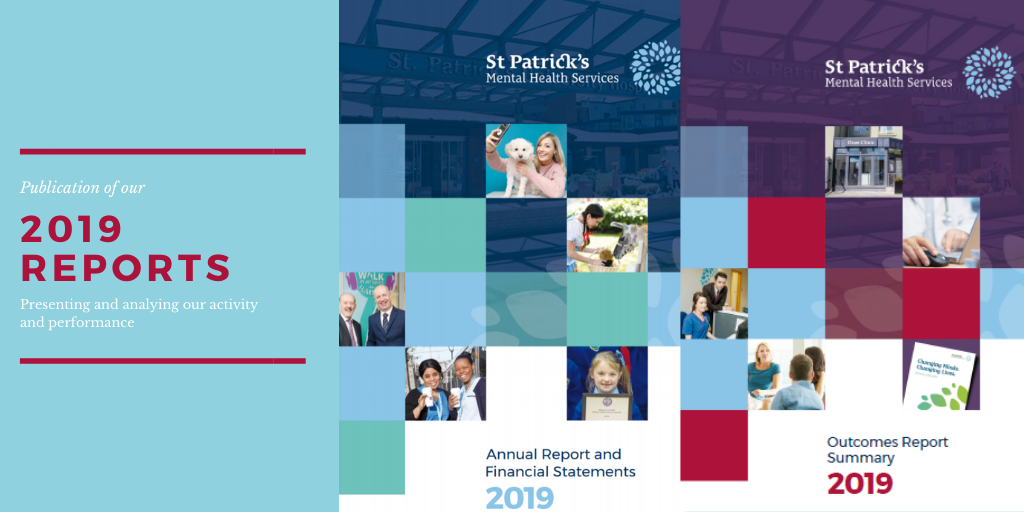 St Patrick's Mental Health Services (SPMHS) is delighted to announce the publication of our latest Annual Report and Outcomes Report, which present and evaluate our activity and performance in 2019.
The reports reflect that, in 2019, we continued to develop and evolve in line with the principles and objectives of our Changing Minds. Changing Lives. strategy.
Snapshots from our Annual Report
Our Annual Report covers our activity during the year under the key headings of service delivery, advocacy, research and education, and service user engagement. Our financial statements for the year are also included in the report.
Click here to read our 2019 Annual Report in full, or find some of the highlights of the year below.









Highlights from our Outcomes Report
Every year, we publish an Outcomes Report to provide detailed insight into our service accessibility, efficacy of clinical programmes and service user satisfaction. This is the ninth year in which we have produced this report; by measuring and publishing outcomes of the services we provide, we continually strive to understand what we do well and what we need to continue to improve.
The full report presents outcomes relating to clinical care, clinical governance processes, clinical programmes and service user experiences, compiled across seven different sections. You can read the full report here.
We also produce a summary report which focuses on analysis of clinical outcomes of our services. Click here to read the summary report, or find some of the key findings from our programmes in the graphs below.







Find more reports and information on our work