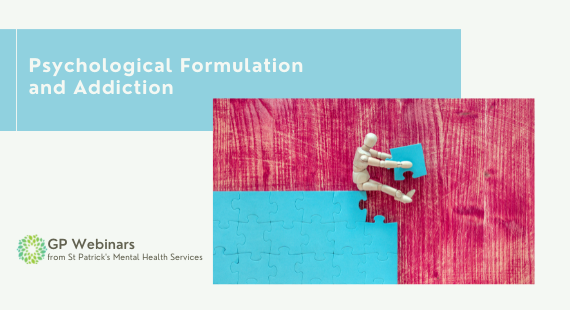 St Patrick's Mental Health Services (SPMHS) invites GPs and healthcare professionals to the first event in our 2022 GP Webinar Series.
Dr Violet Johnstone, Senior Counselling Psychologist, and Dr Aideen O'Neill, Clinical Psychologist, both from SPMHS, will explore how addiction and substance-use disorders fit into a psychological formulation and how the history of addiction has been understood and treated to date.
Addiction from a psychological perspective and emerging psychological theories related to addiction will be discussed. Dr Johnstone and Dr O'Neill will also explore SPMHS' Temple Formulation Group; a psychology group programme for individuals who currently, or historically, have experiences with addiction or substance misuse or abuse.
There will be a short Q&A session following the speakers' presentations where you will have the opportunity to ask questions. You can also submit your questions in advance by emailing communications@stpatsmail.com.
Continuous Professional Development (CPD)
CPD recognition from the Irish College of General Practitioners will be confirmed over the coming weeks. Please note, CPD recognition is only available to those who attend the live webinar. You will automatically receive your CPD certificate to the email address used to register after the event – please allow up to two weeks for receipt.
Series background
This is a webinar series for GPs and healthcare professionals covering a wide range of mental health topics. The series first launched in 2021 and we are delighted to be running these webinars again in 2022. This year, topics that will be covered include compassion for GPs, psychosis, bipolar disorder, self-harm and depression.  
Find more supports and resources for GPs