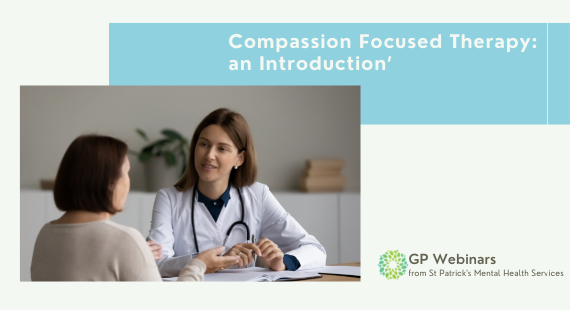 St Patrick's Mental Health Services (SPMHS) invites GPs and healthcare professionals to a free webinar on compassion-focused therapy.
The second event in our 2022 GP Webinar Series, Compassion-Focused Therapy: An Introduction, takes place from 7.30pm on Tuesday, 26 April. 
Marion Mernagh and Sinéad Ní Chaolain, clinical psychologists on our team, explore what compassion-focused therapy is, who it is aimed at, and what its core therapeutic elements are.
By attending, you will examine the key concepts and principles within compassion-focused therapy, and learn about why compassion is important from a mental health perspective. The speakers will also discuss the 'Three Systems' model of emotion regulation, and how you might apply this model to your own work as healthcare practitioners, as well as to the needs of your patients.
There will be a short question and answer session where you will have the opportunity to ask questions of the speakers. You can also submit your questions in advance by emailing communications@stpatsmail.com.
Continuous Professional Development (CPD)
CPD recognition from the Irish College of General Practitioners (ICGP) will be confirmed ahead of the webinar. CPD points are only available if you attend the live webinar. You will automatically receive your CPD certificate to the email address you use to register for the webinar. The certificate will be sent up to two weeks following the webinar. 
Series background
The GP Webinar Series is aimed at GPs and healthcare professionals and covers a wide range of mental health topics. Mental health specialists from various areas of our programmes and therapies present these webinars and offer opportunities for interact and pose questions directly. 
If you have any queries about the series, please email communications@stpatsmail.com.
You can also sign up to our digital mailing list for GPs to get updates on the next events in the series.
Find more supports and resources for GPs