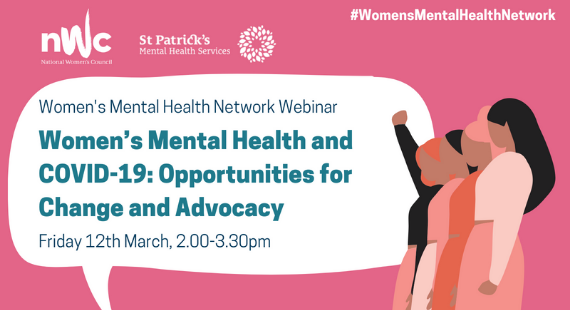 The Women's Mental Health Network (WMHN) is delighted to host its first event of 2021, with a webinar taking place from 2pm to 3pm on Friday, 12 March.
The webinar aims to explore some of what is known at present about the gendered impacts and implications of the COVID-19 pandemic one year on, with a particular focus on women in later life, women experiencing mental health difficulties, and pertinent social determinants of mental health.

Joining the event will be:
It is hoped that this session spotlights for attendees the gender inequalities that have arisen and been exacerbated by the coronavirus pandemic and, most importantly, opportunities for social change, advocacy and action.
The event is free to attend and registration is now open.
Find out more about the WMHN
The WMHN is a network of people and organisations with a committed interest in women's mental health issues, developed by the National Women's Council (NWC) and St Patrick's Mental Health Services.