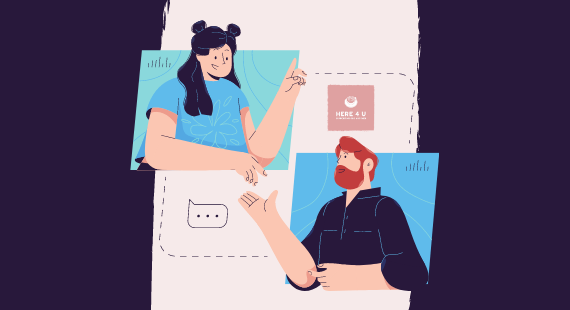 Peer or peer-to-peer support is when people use their own experiences to help each other - and Here 4 U is a new online service to do just this.
Join our former service users for this sixth outing of Here 4 U, the online mental health peer support service launched by our Service Users and Supporters Council in January.
Here 4 U is a safe, friendly, virtual space for people to come together, share their lived experience of mental health difficulties, and support one another through their journeys of recovery. Each session is designed to feel like you are dropping into a warm, local spot to have coffee and a talk with friends, and aims to offer an extra support during thsi time of increased uncertainty and anxiety brought about by the COVID-19 pandemic. 
Trained volunteer facilitators Mary and Maura will host this sixth session of Here 4 U from 10am to 11am on 11 February.
Please note that this is not a clinical service and does not provide therapy.