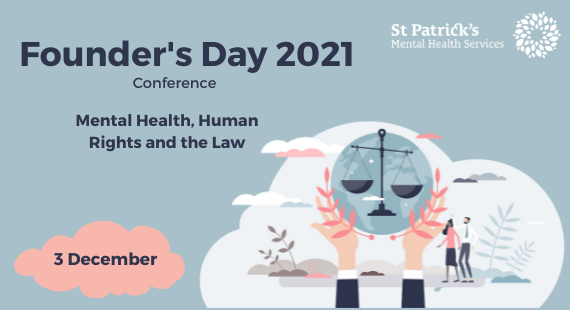 The annual Founder's Day conference from St Patrick's Mental Health Services (SPMHS) is taking place on 3 December 2021.
Founder's Day is held to recognise and continue the legacy of our founder, Jonathan Swift, a pioneer in mental healthcare.
This year's Founder's Day conference will explore the theme of Mental Health, Human Rights and the Law, and will focus on national mental health legislation and related developments, and the broader human rights context. The conference is a half-day event starting at 9.10am and takes place online through Zoom.
Conference topics
Topics that the conference will address include:
the proposed reform of the Mental Health Act 2001 and its significance for service providers, healthcare professionals, service users, their families and supporters, and other key stakeholders
progress on the implementation of the Assisted Decision Making (Capacity) Act and its relevance to the rights of people experiencing mental health difficulties
understanding the role and importance of the United Nations Convention on the Rights of Persons with Disabilities (UNCRPD) from a mental health perspective.
The conference aims to share expert knowledge in these areas by bringing together varied perspectives, such as:
legal and academic expertise
mental healthcare professionals
service user and carer representatives
regulatory and advocacy bodies.
Speakers
We are delighted to announce that Mary Butler TD, Minister for Mental Health and Older People, will deliver an address at the conference. Our keynote speaker will be Gareth Owen, Reader in Mental Health, Ethics and Law, King's College London/Honorary Consultant Psychiatrist at the South London Maudsley NHS Foundation. We will also be joined by: 
Continuing Professional Development
Founder's Day holds an important space in the Irish Continual Professional Development (CPD) calendar, with four CPD points available from the Irish Association of Counsellors and Psychotherapists (IACP). The CPD points available from the Irish College of General Practitioners (ICGP) and the Psychological Society of Ireland (PSI) will be confirmed shortly. Please note, external CPD credits approved by the ICGP are automatically recognised by the College of Psychiatrists of Ireland (CPI).
Registration is free but essential; click here to book your place.
For anybody with accessibility requirements, you can turn on closed captions by clicking on the live transcript function in your Zoom window.
For more information, or if you have queries about accessibility for this event, please email communications@stpatsmail.com or call +353 1 249 3540.