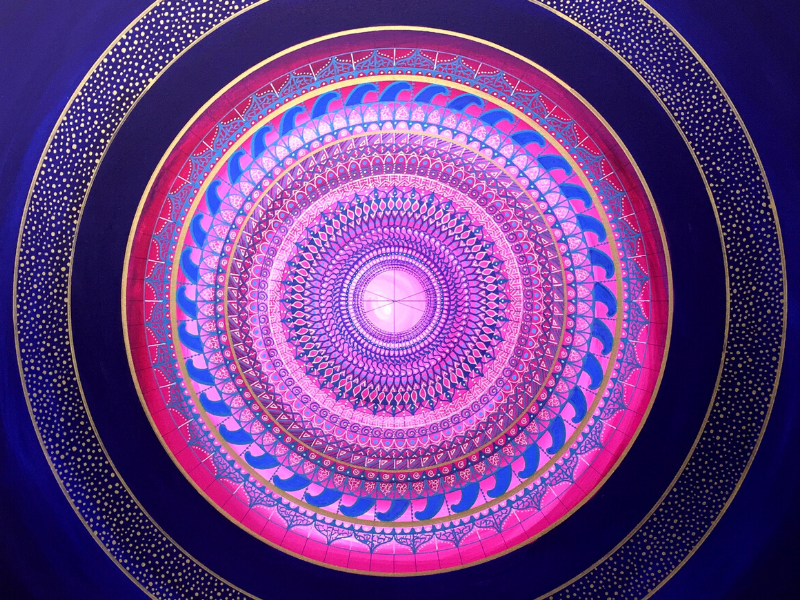 We are delighted to host Temenos, a solo exhibition by artist Patricia Fitzgerald, in the Arts Space of St Patrick's University Hospital, Dublin 8.
Please note that viewing of the exhibition is subject to measures in place to protect against the spread of coronavirus.
Patricia explains:
Temenos is a piece of land marked off from common usage and dedicated as a sanctuary, a holy grove or holy precinct. The word "holy" is derived from the word "whole" and it is wholeness that we seek on our journey to self-actualisation and healing. This body of work seeks to balance and heal both myself, as the artist, and you, as the viewer. It is my belief that, as we heal within, we heal without. We heal all around us.
Patricia studied Visual Education and Communication at Dún Laoghaire College of Art and Design (IADT) and also holds a first class honours degree in Philosophy and Sociology from University College Dublin.  As well as exhibiting her work internationally, she hosts mandala workshops and retreats in both Ireland and abroad. 
For Patricia, the temenos resting place where healing happens can be found at St Patrick's Mental Health Services. She says:
It is a place carved away from mundane life, a place to heal, to find sanctuary and solace both within its walls and consequently within the self. It is a place where self-compassion and healing can begin. We can then carry this temenos, this inner temple of compassionate solace back into everyday life, to the ordinary places in which we dwell.
To find out more about Patricia and her work, please visit her website.