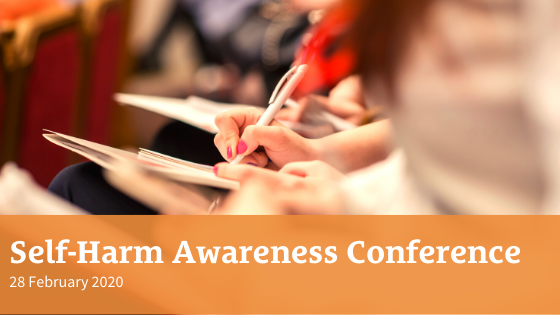 St Patrick's Mental Health Services, in partnership with 

Pieta House,

 

hosts the fifth Self-Harm Awareness Conference in St Patrick's University Hospital in Dublin on Friday, 28 February 2020.

Marking Self-Injury Awareness Day, which falls on 1 March every year, the conference aims to increase awareness and understanding around self-harm, and is open to healthcare professionals, social care and education providers, parents, carers, and policy-makers.
Speakers
While screenwriter and best-selling children's author Dave Rudden joins us a special guest speaker to explore his personal experience of self-harm, other presenters and contributors include:
Tickets
This year, we are offering two attendance options - with morning session or full-day tickets available - to reflect different learning needs and interests. The morning session will focus on self-harm and young people; this session will be of interest to teachers, parents or carers, and those working with young people, along with healthcare professionals. Meanwhile, the afternoon session will focus on healthcare professionals working directly with people experiencing self-harm, such as psychotherapists, general practitioners, nurses and more. Light refreshments will be provided during the day, with lunch available for attendees with a full-day ticket.
Certification
Attendees will be eligible for Continuous Professional Development (CPD) points from a number of awarding bodies. Certificates of Attendance will also be available.
The Irish Association for Counselling and Psychotherapy (IACP) has awarded six CPD points. The Irish College of General Practioners (ICGP) has awarded five and a half CPD points. The Psychological Society of Ireland (PSI) has awarded four CPD points.
The Conference is now SOLD OUT. You can add your name to the waiting list on Eventbrite  and you will be notified if a ticket becomes available. For more information, please email communications@stpatsmail.com or call 01 249 3617.
Location