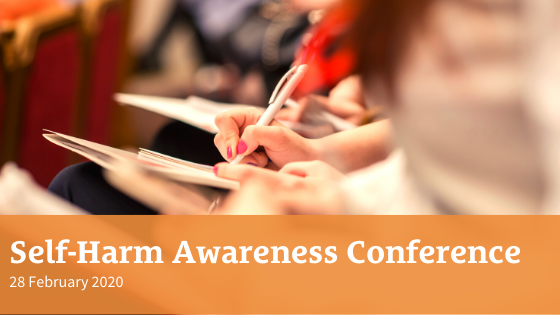 St Patrick's Mental Health Services (SPMHS), in partnership with 

Pieta House,

 

hosts the fifth Self-Harm Awareness Conference in St Patrick's University Hospital in Dublin on Friday, 28 February 2020.

Marking Self-Injury Awareness Day, which falls on 1 March every year, the conference aims to increase awareness and understanding around self-harm, and is open to healthcare professionals, social care and education providers, parents, carers, and policy-makers.
Speakers
While screenwriter and best-selling children's author Dave Rudden joins us a special guest speaker to explore his personal experience of self-harm, other presenters and contributors include:
The programme of speakers can be found here.
Tickets
This year, we are offering two attendance options - with morning session or full-day tickets available - to reflect different learning needs and interests. The morning session will focus on self-harm and young people; this session will be of interest to teachers, parents or carers, and those working with young people, along with healthcare professionals. Meanwhile, the afternoon session will focus on healthcare professionals working directly with people experiencing self-harm, such as psychotherapists, general practitioners, nurses and more. Light refreshments will be provided during the day, with lunch available for attendees with a full-day ticket.
Certification
Attendees will be eligible for Continuous Professional Development (CPD) points from a number of awarding bodies. Certificates of Attendance will also be available.
The Irish Association for Counselling and Psychotherapy (IACP) has awarded six CPD points. The Irish College of General Practioners (ICGP) has awarded five and a half CPD points. The Psychological Society of Ireland (PSI) has awarded four CPD points.
Health and safety around the coronavirus
In the best interests of the health of all our service users, staff and visitors, SPMHS is currently preparing contingency measures against the potential spread of the COVID-19 coronavirus.
St Patrick's University Hospital is a working hospital, with over 240 inpatient beds and hundreds of people attending programmes and appointments on a daily basis: at all times, our team takes every necessary precaution to best protect the health and safety of all who come through our doors.
As such, we would ask that you do not attend the Self-Harm Awareness Conference if, over the last 14 days, you have been in any of the affected areas identified by the Health Service Executive, if you have been in contact with a person who has coronavirus, or if you have visited a hospital or healthcare centre where people are being treated for coronavirus.
This request is made in light of the ongoing spread of the coronavirus in several popular European and Asian territories, and aims to prevent unintentionally transmitting the infection, and we appreciate your patience and understanding with this.
The conference is now SOLD OUT. You can add your name to the waiting list on Eventbrite  and you will be notified if a ticket becomes available. For more information, please email communications@stpatsmail.com or call 01 249 3617.
Location