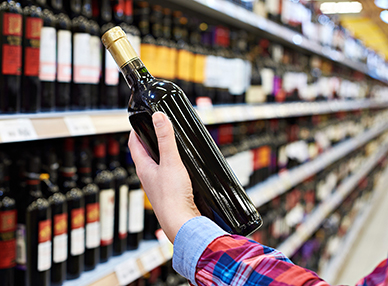 Dr Conor Farren, Addictions Psychiatrist here at St Patrick's Mental Health Services (SPMHS), recently shared some guidance for people who are worried about a loved one's alcohol use.
Dr Farren recently joined presenters Tommy Bowe and Muireann O'Connell on Ireland AM to discuss rising concerns about alcohol addiction following the COVID-19 pandemic. Dr Farren explained that, since the pandemic began, there has been a roughly 40% increase in alcohol consumption, with a lot of this moving to drinking at home. Some people may have had no issues with alcohol before the pandemic, but, over the course of 18 months, find themselves at the stage where there is serious alcohol abuse.
This increase in problems associated with alcohol has led families across Ireland to worry about loved ones, and to wonder what they can do to approach the issue with their family members. While this can be a difficult time for families, Dr Farren shared some practical tips on how to address the issue with the person and begin moving forward.
Dr Farren explained that, if you are worried about how to approach a person's drinking or alcohol use with them, there can be some fear about how best to do this. The first step is to talk about it yourself: speak about your concerns with friends, family or even someone who has been through the experience themselves. By getting some peer support for yourself, you can build up the courage and knowledge to approach the person themselves.
When it comes to opening the conversation with the person, there is no one thing you can say or "one phrase fits all" that will resolve the situation. Instead, Dr Farren gave the following advice:
It is best not to approach someone when they are intoxicated or when they have been drinking. Wait for a day or two until there is an opportunity to speak to them.

Suggestion is better than confrontation. Rather than accusing or giving out to the person, it is more helpful to open a conversation with something like "I noticed you were quite out of it the other evening and it's been the same while every few nights for a while. Gosh, that's a lot, isn't it?".

It is good to be able to share a number of points of evidence to the person, rather than just one. For example, this could mean letting the person know a few different things, such as finding several empty bottles around the home, or seeing their children or family members upset because the person had been drinking. Having a few scenarios and points of proof to share with them is helpful.

Having one or two close family members or friends with you when you are talking to the person can avoid the situation becoming too personal. It also gives the opportunity for the person to hear these people's perspectives and know that people care and are affected by what is going on. This does not mean having what can be known as an intervention with a large number of people present; this can be too much.

It is important to have something positive to suggest, rather than focusing only on the problem. This can be as simple as suggesting the person could read some information, watch a video or talk to their doctor. It can be better to wait a little before suggesting the person attends a group like Alcoholics Anonymous or receives rehabilitation treatment: a few positive suggestions that lead up to a step like this can be more powerful in the beginning.
In responding to a query about what parents should do if they are worried about their children and young people drinking, Dr Farren suggested that it's important to convey the message to them. Research shows that softened, persistent messaging works, particularly if it's consistent over time: putting gentle restrictions in place – such as not allowing them to drink in the house – can also help with this.
Get more information and support