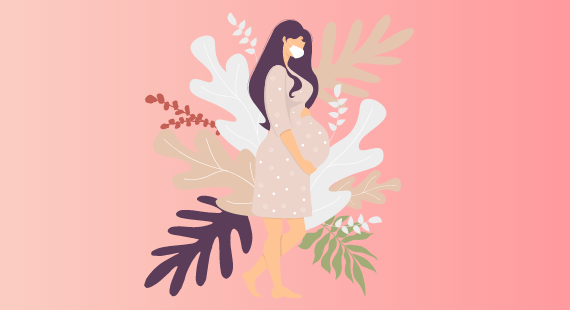 Going through pregnancy during a global pandemic is something no woman would ever have imagined. Megan Cooley of our Social Work Department shares her own experience of pregnancy in the COVID-19 era, voicing the views, opinions and perspectives she has developed while working in the area of mental health.
In my opinion, no woman ever imagines finding themselves pregnant during a time where the perceived 'normal way of living' means lockdown, social distancing and face masks. At this point, we have all adapted in many ways to this way of living, yet, as a first-time mother-to-be, the challenges of being pregnant during COVID-19 are noticeable. I hope this piece will help other pregnant mothers-to-be to feel a sense of ease in understanding that they are not alone in their pregnancy.
Creating awareness of how best to look after yourself
There has been a lot of recent attention in the media on how COVID-19 can have an impact on a woman's mental health during pregnancy. From my own experience, I know this to be true: I had to give active attention to my mental health over the past few months, as we have been in Level Five lockdown for the duration of my pregnancy. I imagine there are many women reading this in a similar situation.
As a new mum or mum-to-be, there are considerable changes to our world, and change alone can cause huge distress. With pregnancy, especially at the early stages, there is so much unknown about the process. There is a lot to learn and a lot of new worries that can consume you at times – and that's not to mention hormonal changes!! While it is important to note that each mother's experience of this situation will be slightly different, this change in your lifestyle, coupled with the fear of catching COVID-19 and its impact on you or your unborn baby, can play negatively on your mind.
I hope to encourage women to be aware of how the restrictions we're living through can leave a negative impact on our mental health and to create awareness of how to look after yourself best during pregnancy. In doing so, I will speak from both a professional and a more personal viewpoint. I hope us mothers can collectively encourage each other to look after our mental health by sharing our own experiences and supporting one another.
Looking at the impact of lockdown on our mental health
Up to one in five women experience mental health difficulties before or after pregnancy. Some women may have never gone through a mental health difficulty before. Others may have a pre-existing history of mental health difficulties, which brings an additional layer to pregnancy and can create heightened distress. For example, these women may have to change their medication, or have additional doctor's appointments; these kinds of changes can create a lot of disharmony and uncertainty.
Whether or not they have gone through a mental health issue previously, during this global pandemic and the sense of isolation that often comes with it, more women may feel the reality and context of their pregnancy to be quite triggering for their wellbeing. Pregnancy brings a number of big life transitions, and the circumstances of the COVID-19 outbreak and restrictions can make these transitions feel even more complex.
Professional changes
For example, my professional life saw changes. In the early days of my pregnancy, I was mainly working remotely, but I started to blend my working week between being at home and onsite at St Patrick's University Hospital. I found this change in work space positive for my wellbeing: I value in-person interactions with service users very strongly and they are a huge reason why I love my work.
However, following guidance for pregnant healthcare workers from the Institute of Obstetricians and Gynaecologists, I was automatically classed as 'high risk' in terms of COVID-19 when I disclosed my pregnancy at work. This terminology and labelling alone did feel quite daunting. I am now working solely at home for the duration of my pregnancy. I understand the risks and reasons why, but it is still difficult some days.
Like me, there are many women going through pregnancy who miss the social element of working in the office and being able to see clients and colleagues, especially at this new and exciting time in their lives. I believe this engagement can really impact our mental health positively, so not being able to enjoy in-person interaction is difficult.
Personal changes
I've also felt the effects of the pandemic in my personal life during my pregnancy. For starters, sharing pregnancy news in lockdown is an unusual experience. I wonder how many women shared their special news through WhatsApp or over a phone call. I found the lack of opportunity to meet friends and family difficult. We, as new mums, are bursting to share our magical news, but, with COVID-19, we are restricted in our choices.
As a first time mother, my first experience of a maternity hospital was when I attended for my first scan. Up until this 12 week mark, new mothers face a lot of questions and worries, leading to a natural apprehension attending such a scan. Due to the government restrictions for maternity services, I and many women of the country attended this scan alone. There is a broad spectrum of circumstances that each woman attending may be faced with and, going alone, would not have the support of their partner at the time. This is an experience you would not wish for anyone.
On those days I have been anxious and missing the ease of seeing my support system, I have had to ask for help. This is not always easy. If I didn't seek help, others may not be aware of how I'd been struggling, and my mental health could have been negatively impacted. I encourage anyone reading this to remember there is always a loved one or friendly voice who is just a phone call away.
For all those mums whose bumps are growing, I too understand your frustration at not being able to go into a clothes shop to buy good-fitting maternity clothes. You may also be disappointed that you have not had an opportunity to browse the baby section. However, going by recent government updates, we should finally get to experience this shortly! They may seem small, but we can't underestimate how much these activities, which we would've presumed to have had, mean as we prepare for a new stage in our lives.
Supporting ourselves
The above, of course, are just a few examples of some of the changes we are going through. Although there are noticeable negative impacts of the pandemic on pregnancy and mental health, I feel there are many positives to take from this experience. I think it is important for us all to take time to reflect on what we do have, rather than what we do not.
Below are some helpful tools or coping strategies that I myself have found helpful to support positive mental health in pregnancy. I encourage you all to find what tools work best for you, and wish every mum the very best on this special journey.
Find out more
Listen and watch back some of our recent podcasts and events on the impact of COVID-19 on women's wellbeing.