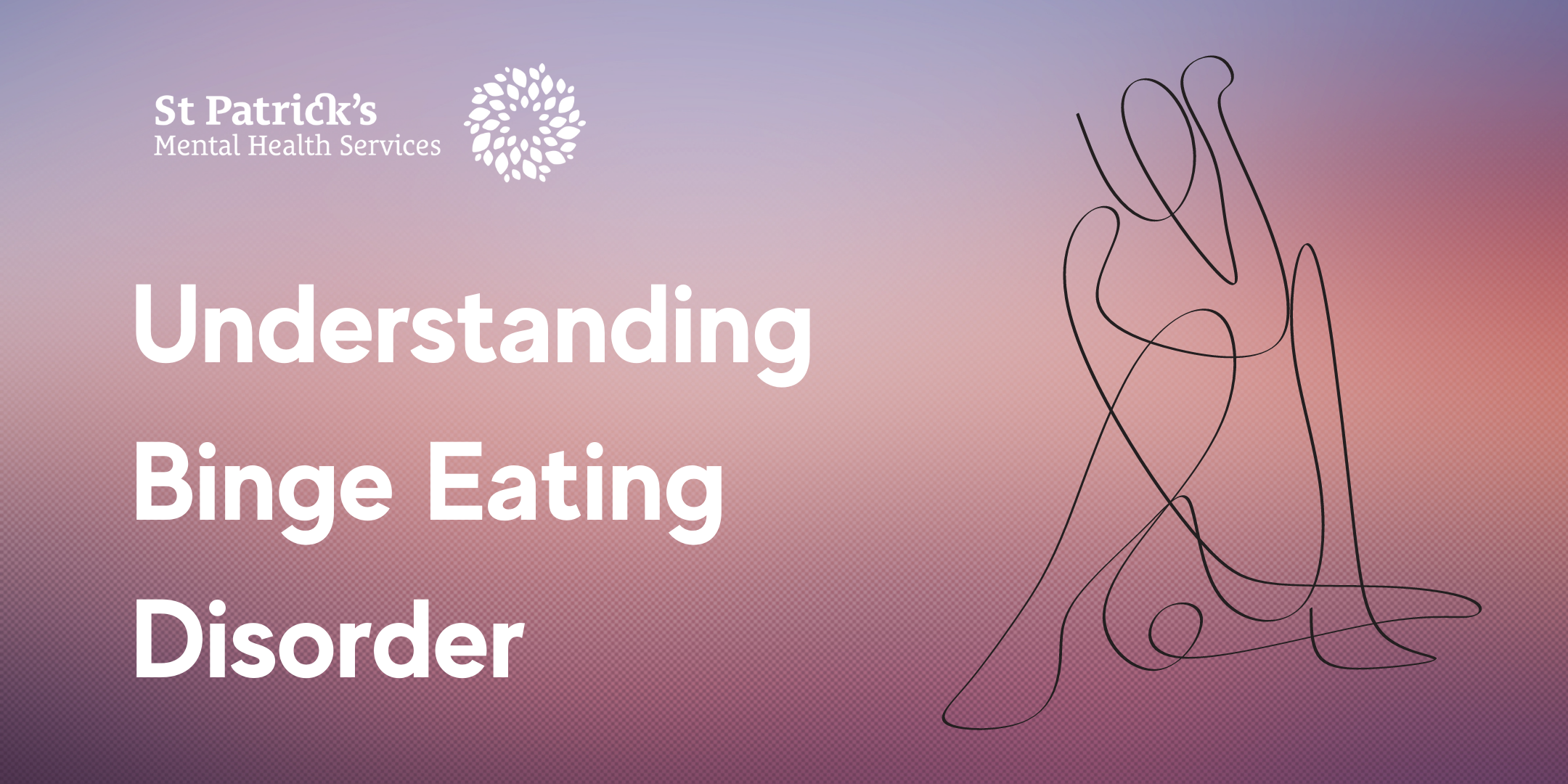 St Patrick's Mental Health Services (SPMHS) marks Eating Disorders Awareness Week 2022 with a free event exploring the impact of binge eating disorder.
Eating Disorders Awareness Week runs from 28 February to 6 March 2022. With approximately 1,800 new cases of eating disorders in Ireland each year, it is thought that binge eating disorder is more prevalent than other eating disorders, such as anorexia nervosa and bulimia nervosa. In recognition of this, experts from SPMHS hosted webinar on 1 March to provide a deeper understanding of binge eating disorder.
Binge eating disorder is a mental health condition that is almost equally as common between men and women. It is characterised by binge eating on large amounts of food in a short period of time, where the person eats quickly and until they are uncomfortably full. The person does not engage in any purging, or behaviour to lose weight or change their body shape. This means that, over a period of time, they gain a significant amount of weight.
Data published in the Lancet Psychiatry in 2021 estimates that 17.3 million people worldwide are living with binge eating disorder.
During the webinar, which took place from 6pm to 7pm on 1 March, Dr Toni O'Connor, Advanced Nurse Practitioner; Dr Fionnuala McEnery, Clinical Psychologist; and Aleysa Howley, Occupational Therapist at SPMHS looked at the impact of binge eating disorder on daily life for the person experiencing it and consider what steps a person can take with their recovery. They also explored binge eating disorder from a biopsychosocial perspective, and look at the use of compassion-focused therapy in the treatment of eating disorders.
Dr Toni O'Connor said: "Despite the prevalence of eating disorders in Ireland,  misconceptions exist that eating disorders are almost always exclusive to adolescent girls, and that anorexia and bulimia are the most prevalent types of eating disorders. However, we know that this is not the case. While eating disorders may disproportionately affect young girls, data also reveals that, in some cases, men can be as much affected by eating disorders as women, and these disorders can develop at later stages of life, as is often the case, particularly with binge eating disorder."
She continued: "This event, being held as part of Eating Disorders Awareness Week, aims to provide a deeper understanding of one of the most prevalent eating disorders in Ireland, and to provide some information and support to both the person experiencing the eating disorder, and their family, so that they are empowered in their recovery journey."
Facts on binge eating disorder
people in Ireland are estimated to have an eating disorder in their lifetime
of women will experience binge eating disorder in their lifetimes
of men will experience binge eating disorder in their lifetime
Support for eating disorders
Find out more about eating disorders here.
There are a number of support groups and resources available to people experiencing eating disorders and their family members.
You can contact our Support and Information Service to speak to mental health nurses any queries you may have around eating disorders. The service runs from 9am to 5pm Monday to Friday (apart from bank holidays): if you leave a message outside of these hours, the team will come back to you the next working day. To get in touch:
You can also find more information and resources from the organisations below.
Watch | Eating disorder information