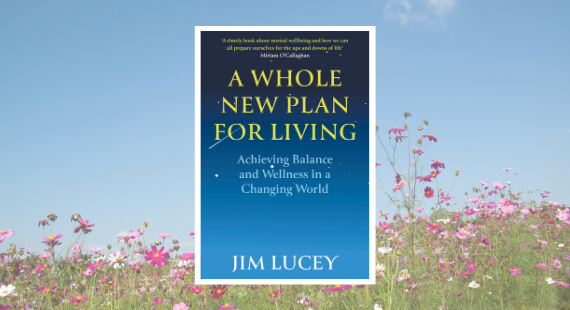 Our Consultant Psychiatrist and former Medical Director, Professor Jim Lucey, releases a new book on developing a personal plan for staying mentally well and becoming resilient in a changing world.
A Whole New Plan for Living proposes and explores ten steps to help prepare ourselves for challenges by building and practicing balance and wellbeing in our daily lives.
Professor Lucey wrote the book during the COVID-19 lockdown of 2020, a difficult time in which we faced heightened anxiety and distress; multiple stressors like isolation, illness, grief and financial strain; and limitations in our everyday routines. While one in six of us experience a mental health challenge in a year, Professor Lucey explains that this has likely increased to as many as one in three of us in the aftermath of the pandemic.
These circumstances have prompted many of us to ask how we can deal with pressures, recover from hardships, and better take care of our physical and mental health to enjoy a bright and hopeful future. The idea behind A Whole New Plan for Living is to respond to modern life and find a way of loving ourselves, loving each other, and loving the world.
Ten steps
The ten steps in the book aim to be practical, authentic guides which can be rooted in a personal plan to move forward with thought and contentment. Readers are invited to come with an open mind and hopeful heart, keeping a piece of paper and pen beside them as they read so that they can take notes and do exercises where prompted so that, by the end, they have their own, individualised plan for living.
Professor Lucey explains that the earliest steps are about making the decision to be well and grasp what being well means. The next steps address the eight dimensions of health, such as physical, intellectual, spiritual, financial and environmental health. They then look at how we can deal with challenges that come to us through managing our emotional health, letting go, being less judgmental and practicing self-compassion, before moving to consider how we maintain health in difficult times, such as work stresses or marriage breakdowns.
Creating a plan for living involves asking ourselves questions like who we are, what we are, and where we are going. The remaining steps seek to help us answer these questions, by, for example, learning to recognise what is outside of our control, recapping on tools we can use, and learning how to balance and sustain the different dimensions of health.
Informed by experience
For Professor Lucey, A Whole New Plan for Living is informed by his experience as a psychiatrist and Medical Director of St Patrick's Mental Health Services, which he calls "one of the treasures of Ireland". The book came at the end of his 12-year term as Medical Director, and reflects some of the learnings, insights and "collaborative experiences" from working in this role. The ten-step process also comes from his work in mental healthcare, after hearing from service users that they found it helpful to write out and follow a tangible plan for themselves through similar stages.
Professor Lucey notes, "I would be of the view, informed by my experience in mental healthcare, that health and wellness is about the mind and the body. It is not about overcoming a disorder or disease, but the fulfilment of a human being as a whole. No authentic plan can say one thing will solve everything, but should be about restoring integrity in mind and body so that people can learn and love. My experience at SPMHS completely made sense of this view."
One example of this holistic, person-centred vision that Professor Lucey cites is a clock, now outside the boardroom in St Patrick's University Hospital, which was bought in 1900 by Dr Richard Leeper, the Medical Director at the time. Until then, there had never been a clock in the hospital. Far more than just being a practical addition, Dr Leeper introduced the clock to give the gift of time to everyone in the hospital, to empower them to know more about their days and how their treatment is going, and to set an expectation for a time of recovery. This clock therefore stands as a symbol and reminder to give ourselves time to take a break and to reinforce that time spent on our mental health really matters.
This compassionate gift of time for our mental health anchors A Whole New Plan for Living, which Professor Lucey hopes people will find useful to help "lower the hurdles and jump over more of them".
See more from Professor Lucey