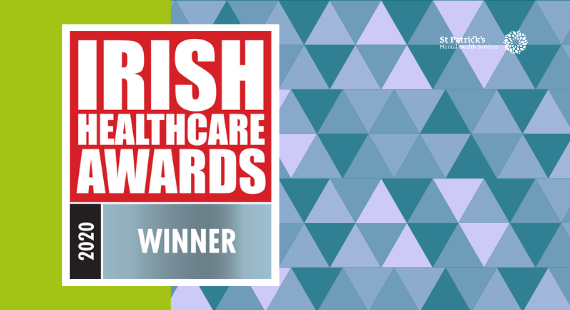 St Patrick's Mental Health Services is delighted that our Homecare Service was named as the Mental Health Initiative of the Year at the Irish Healthcare Awards 2020.
Marking their 19th year in 2020, the Irish Healthcare Awards are the leading medical awards in the country, with this year's winners revealed in a virtual awards ceremony on 1 December.
Advancements in treatment and advocacy
Our Homecare Service, which offers all the elements of our inpatient programmes but provided remotely in service users' own homes, won the top prize in the Mental Health Initiative of the Year category. Launched last March, the service delivers the highest levels of one-to-one mental health support through daily or more frequent contact over videocall and other technological channels. Arrangements are also put in place with local pharmacies to safely organise supplies of medication that service users may need as part of their support.
Judges commended entries to the category for demonstrating advancements in treatments, awareness and advocacy, as well as "scaled-up quality interventions and services for mental health patients".
Our new service user portal, Your Portal, which aims to empower our service users by giving online access to record and share their own health-related information, was also shortlisted in the category.
Innovative mental healthcare
Our Chief Executive Officer, Paul Gilligan, said:
"We're delighted that our Homecare Service was recognised as the Mental Health Initiative of 2020 at the Irish Healthcare Awards. This achievement is testament to the trust our service users place in us and their willingness to explore innovative ways to enhance their recovery. It is also testament to the hard work and dedication of all of our staff in providing the highest quality mental healthcare to our service users."
He continued, "The use of digital technologies to enhance and expand service delivery is one of our key strategic objectives, and the timely introduction of the Homecare Service earlier this year marked a significant shift towards new and innovative ways to deliver mental healthcare in Ireland. Our Homecare Service increases accessibility to mental healthcare for service users, as well as ensuring that the delivery of vital mental health services can continue, even when faced with unprecedented challenges, such as the COVID-19 pandemic."
Several of our other 2020 developments were recognised through the awards process, with our Remote Services shortlisted in the Best Response to COVID-19 (Not-for-Profit) category and Your Portal under the Best Use of Information Technology category also.
Acknowledging this, Paul Gilligan added, "We are committed to investing all of our financial resources, staff commitment and clinical expertise in to ensuring those experiencing mental health difficulties are given the best opportunity to live fulfilling lives, and this will continue to be realised through the development of new initiatives and innovative approaches to mental healthcare delivery."
Find out more about our winning and shortlisted services
Watch the awards ceremony