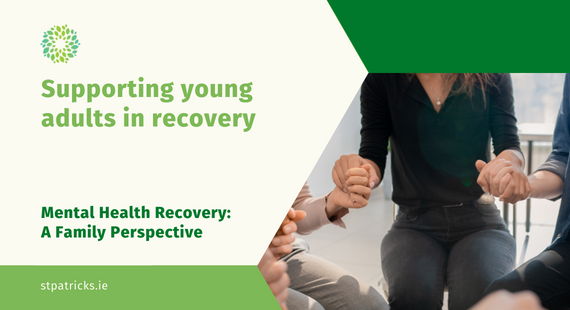 St Patrick's Mental Health Services (SPMHS) held a free webinar exploring how to support young adults in mental health recovery.
Two members of our multidisciplinary teams (MDTs) - Elaine Murphy, Social Worker, and Laura Pearson, Systemic Psychotherapist - discussed how families, friends and carers can support young adults on the journey of mental health recovery.
Their presentation will help families to understand the care their young person receives in hospital by simplifying the hospital structures and providing explanations around the remit of the young adult team. The webinar will also consider recurring themes for young adults who experience mental health difficulties and their families.
It is hoped that this webinar will assist families to understand more transparently the care their young person receives in hospital and give an opportunity to reflect on common themes young adults and their families experience when a mental health difficulty arises.
More on our family series
This webinar ran as part of our family information series. Each webinar which takes place as part of the series offers practical information on a different mental health topic, coming from the perspective of supporters of people going through mental health difficulties.