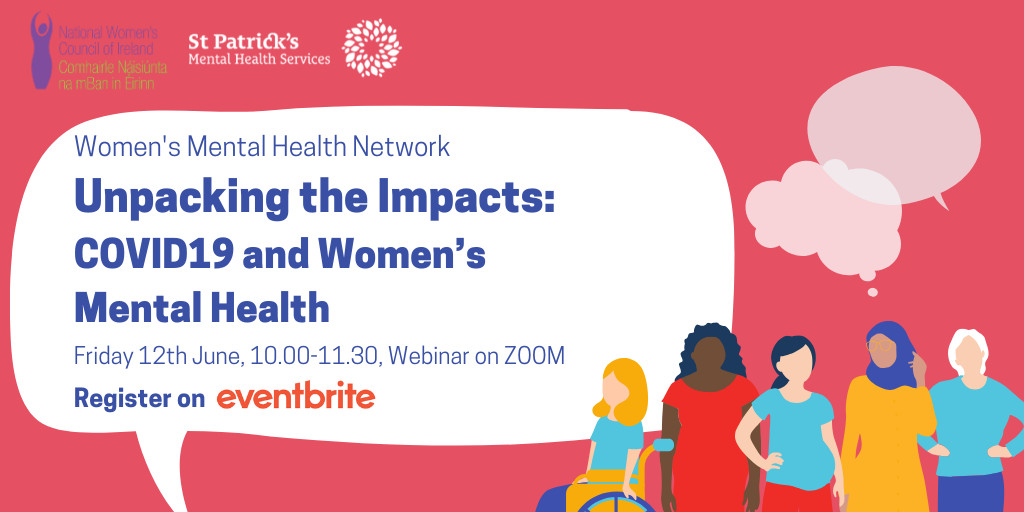 The Women's Mental Health Network (WMHN) invites you to a free online webinar on Friday, 12 June, from 10am to 11.30am. The webinar will explore the impacts of the COVID-19 pandemic on women's mental health in Ireland, from different perspectives.
We are delighted to have Lisa Marmion, Services Development Manager at Safe Ireland, Zoe Hughes, Policy and Research Officer at the Care Alliance, Toryn Glavin, Founder of the Irish Trans Student Alliance and Trans Engagement Manager at Stonewall, and Liliana Morales, Psychologist with the HSE Psychology Service for Refugees and Asylum Seekers, joining the webinar panel to speak to their experiences from recent weeks.
The webinar schedule and information can be found here.
Find out more about the WMHN
The WMHN is a network of people and organisations with a committed interest in women's mental health issues, brought together through a collaboration between the National Women's Council of Ireland and St Patrick's Mental Health Services.