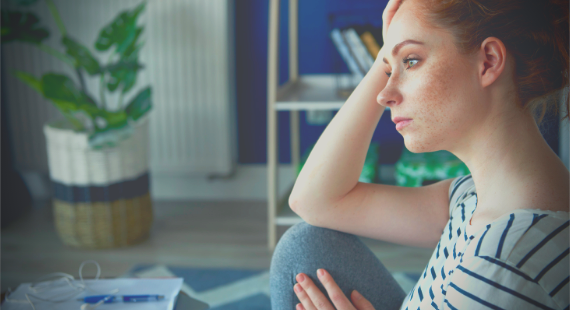 Many of us find lockdown and the constant whirlwhind of news around COVID-19 difficult and, at times, overwhelming. Paula is a member of our Service Users and Supporters Council (SUAS) who shares some tips she has found helpful for getting through the challenge.
Although we are almost a year into the COVID-19 pandemic, peace of mind eludes many people. Mental healthcare service users and former service users may be particularly prone to feeling unwell, considering the fact that many of us often feel anxious anyway. However, help is available. I would like to share with you some hints that I have found useful myself.
Have a daily routine and stick to it.
Have five or six things that you always do, if at all possible. These can include mindfulness, reading (even the most frivolous of magazines or books); going for a stroll or walking the dog, if you have one; watching something on television or a streaming service, like a favourite comedy (personally, I love the old episodes of Frasier).
Pursue a hobby.
If you have a hobby, pursue it. This might be chess, crochet, working out, or something else while we are in lockdown.
Success breeds success. The more you do, generally speaking, the more you CAN do. It follows that, the more you do, the more you are disposed to doing these things again, and your confidence soars. Suddenly, you have a life that incorporates lots of daily activities and gives you skills, including coping skills. 
When you do something, don't forget to congratulate yourself.  This is very important for endorsing yourself and building confidence.
Go for a walk every day, even for 10 minutes.
Walks have a remarkable way of clearing the head. As you get fitter, walk for longer.  If you need to be alone, be alone.  Turn off your phone while you walk, or at least turn it off later on. We need to be silent, even for a few minutes each day. This helps us to find a balance in all that is happening in us and around us.
Talk to someone every day.
It's very important to connect with someone every day. It's important NOT to become isolated. A friend or family member you like or get on with can be a very important person in your quest for recovery. Be honest with them, and tell them how you feel. 
Have half an hour a day when you DON'T check your phone.
It can be very addictive to keep checking your phone needlessly. You deserve this time for yourself.
Don't expect to feel great all the time.
It's simply not possible to feel great every day. Even really healthy people often feel unwell, under-confident, or bothered some of the time.
Be patient with yourself! If you're down, think of something that makes you happy: a comedian's show, a favourite pastime, something you're proud of, or someone you love. These little thoughts can help to begin picking us up again.
Remember, life is a work in progress. It's a marathon not a sprint. Take heart, and know we are heading towards the end of this pandemic.
Read more lockdown tips from our service users
Several of our service users have shared their experiences and tips for getting through the ups and downs of the coronavirus outbreak with us; click the icons below to see more.