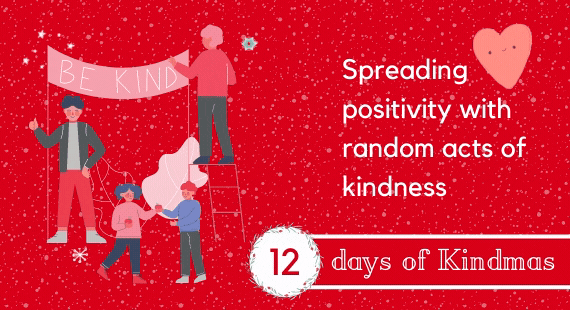 2020 has impacted our ability to spend time with our family, friends and loved ones, but, with some simple and random acts of kindness, we can extend the hand of friendship, support and love.
Staying safe and helping to suppress the COVID-19 virus has meant fewer hugs, less time with our loved ones and our spirits feeling down from time to time. Now, as the holiday season looms, travel restrictions and government guidelines affect everyone's plans to see their family, friends and neighbours. We may all be feeling a bit fed up and a little sad that we can't be together as much as we would like.
But don't forget - there are some clever ways that we can extend the hand of friendship, community and love while staying safe and protecting ourselves and each other.
Enjoy clever ways to connect
Random acts of kindness are a wonderful way to share a virtual hug, show we care or give someone a boost. They can be inexpensive or free - it really is the thought that counts (just remember, if you are putting them into action, to stay safe and exercise caution to prevent infection spreading, and follow the latest government guidelines).
Enjoy these random act of kindness ideas to brighten your and someone else's day. We think it's a fantastic festive win-win!
Keep in touch with family and friends
If you want to extend an act of kindness in your community, why not join your local volunteer centre? You can find your closest volunteering opportunity here.
Of course, there are lots of acts of kindness we can practice closer to home with friends and family!
Say it with flowers! Why not drop fresh flowers to someone's door if they are unwell or having a rough day?
Take a few minutes to wash someone's car: this is helpful for someone who is older or is living alone.
Check in or text neighbours to see if there's anything they might need, especially if they are elderly or cocooning over the holiday period.
Prepare a delicious lunch or dinner for a housemate, partner or family member.
Make a batch of cookie dough, cut it into whatever shapes you choose, and slip the shapes into freezer bags which you can drop around to people; they can freeze the dough and just pop it from the freezer into the oven when they want to enjoy some fresh cookies, made with love.
Make a playlist of someone's favourite music or songs that remind you of them; you could even have a listening party with them online!
Suggest pairing up with a friend or someone you know who is feeling a bit down or unmotivated to try something new together, like a 30-day online yoga challenge, creative writing (sharing what you've written with each other), or using an app to learn a new language.
Arrange to teach a skill to someone over a video call - such as playing guitar, singing or so on - so that you can spend time together and get a boost from feeling productive and creative.
Help an elderly relative in your bubble to set up an online call to connect with others or to do an online shop.
Stay connected with loved ones abroad
Send friends or family who live abroad a voice note or video message to tell them you miss them.
Get the children in your home to to make cards or crafts to post to someone who might not get home as often as they'd like at the moment. If you are sending these in time for Christmas, do a quick check of postage dates first - but these little gifts will raise a smile whenever they arrive!
Send an eCard to let someone know you are thinking of them.
Make a photo album of good memories that you can send to a friend or family member: take photos from your phone or social media and print them or compile them online as a surprise for them.
Thank frontline and essential workers
Our frontline and essential workers have had a very hectic and challenging year, and may not get as much downtime as they would like or need over the festive period. Why not display a 'thank you' sign in your front window to let them know you're grateful for their work and dedication and to lift their spirits? Even dropping them a simple text, phone call or Christmas card would be appreciated too. 
If your neighbour is a frontline worker, you could also help with little things, like:
Trimming their hedge, cutting their grass or picking up all the leaves from outside their driveway
Bringing in their bin next time you are taking in yours
Popping them a text and asking them if they need anything when you are doing an online shop or going to the supermarket.
Be kind to yourself too!
Whatever you do, don't forget - the sacrifices you are making and your adherence to public health guidance are a fantastic act of kindness. You are helping to protect others, support our healthcare workers, and keep our families and communities as safe as we can. Be proud of your efforts.