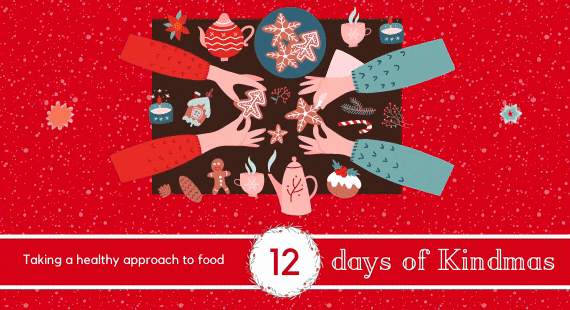 Winter and the festive season often see us surrounded by rich and tempting treats, which can put a dent in our usual good intentions for a healthy diet. Eleanor Sutton, dietitian with our team, shares with us how we can be kind to ourselves in our approach to food at this time by enjoying our favourite festive delicacies while keeping healthy practices.
Christmas for many of us is a challenging time of the year to maintain a good, wholesome, nutritious diet. Food is often at the centre of everything festive; even fast food restaurants are targeting consumers with 'festive burgers', or coffee shops are serving festive hot drinks. 
Studies show we can easily overeat over the festive period and often take in over 5,000 calories on Christmas Day alone; it's easy to overdo it with so much delicious food around us.
Overeating occasionally is normal, but can come with feelings of guilt and anxiety for some people.  However, if you overdo it, don't worry; start again the next day.
Acknowledge that the festive period can be somewhat of a challenging time to eat well. Be kind to yourself: do the best you can and, most importantly, enjoy your food and little moments of indulgence.
You may find some of the following tips useful in approaching food in a healthy way over the festive period.
How can I deal with constant temptation?
Plan your meals daily; for most people, this includes three meals per day in the form of breakfast, lunch and dinner. When we are full, we are less likely to be tempted to snack between meals.
If you need snacks between meals, opt for some fruit, raw vegetables, rice cakes, corn cakes or oat cakes with some nut butter or slice of avocado. A small slice of Christmas cake would also make a suitable snack.
The more food on offer, the more we tend to eat, so try sticking to a few smart choices.
How can I maintain healthy eating?
Plan to have some treats that you enjoy, but plan the healthy eating part of your day also. For example, start with a bowl of porridge in the morning with some Christmas themed fruit and spices (think cinnamon, cranberries, satsumas).
Plan to serve loads of different vegetables with meals, and use herbs and spices to add flavour; some vegetable ideas could include green beans tossed with dried cranberries and flaked almonds, carrots with fresh chopped thyme, or spinach with garlic and a little butter.
Avoiding adding salt to food. Most people know that too much salt can cause raised blood pressure, which is linked to an increased risk of heart disease and stroke. Many people add salt out of habit, but it's often unnecessary and your taste buds will adapt as you decrease your salt intake.
It's a good idea to try to eat more fibre-rich foods each day as this helps to keep us full and most people in Ireland - and many other countries - do not get enough. A diet rich in fibre can help to maintain a healthy digestion and prevent constipation.  We can get fibre from a variety of sources such as porridge, brown bread, brown rice, brown pasta, fruit and vegetables, and so on.
It's easy to forget, but choosing drinks that are heathier is a key part of getting a balanced diet. Many soft drinks and alcohols are high in sugar. Opt for water as much as possible. You could also add some no-added-sugar squash to the water. For more information on alcohol, see Drink Aware.
Finally, plan some activity in your day; engaging in some form of exercise is beneficial to both physical and mental health. It may be harder to exercise in the colder weather, but get a good coat and hat and plan to be out daily for 20-30 minutes walking. If the weather is very bad, you can take your activity indoors too, with many online yoga or workout classes available.
Trying out some healthy recipes
Be kind to yourself by kicking your day off with these energy-boosting breakfasts. You can even make a batch of these no-added-sugar granola bars in advance for a healthy snack on the go.
Sweet apple porridge
Serves: one adult
Preparation time: 10 minutes
Cooking time: five minutes
Ingredients
50 grams of porridge oats 
200 millilitres of semi-skimmed milk
One medium dessert apple, diced
Pinch of cinnamon or pinch of nutmeg
Method
Mix all the ingredients into a saucepan.
Heat and stir until just boiling, then lower the heat and simmer gently for five minutes, stirring often.
Spoon the porridge into a serving bowl and add a sprinkle of cinnamon or nutmeg.
Oaty fruity cereal bars
Make six bars
Preparation time: 15 minutes
Cooking time: 25 minutes
Ingredients
150 grams of jumbo oats
Two very ripe medium bananas 
60 grams of melted butter
60 grams of cherries
60 grams of cranberries
40 grams of sunflower seeds 
40 grams of pumpkin seeds
Method
Preheat the oven to 200 degrees Celsius (fan 180 degrees Celsius, gas mark 6). Mix the oats, cherries, cranberries and seeds together in a bowl. Pour in the melted butter and mix it in thoroughly to make sure the oats are well coated.
On a separate plate, mash the bananas into a pulp with a fork, then add to the oat mixture and mix well. Spread the mixture into a 30 centimetre by 20 centimetre (30cm x 20cm) tin and bake in the oven for 20 to 25 minutes. Once cooked, transfer to a wire rack to cool, then cut into six bars.
Tips
Press the mixture into the baking tin well, but not too hard.
If batch is a bit dry, increase the amount of mashed banana to moisten the mixture before baking.
For an extra treat, you could try add a small handful of dark chocolate chips.