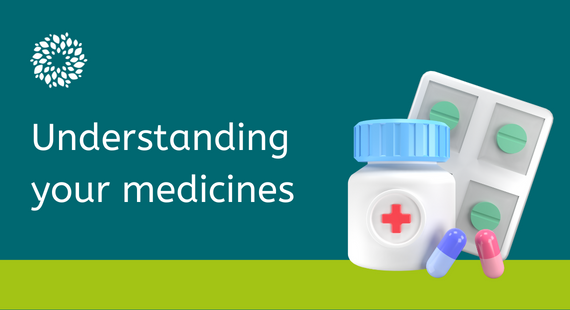 If you are taking medication, knowing and understanding your medicines is important. Our Pharmacy team gives some tips and reassurances on how to safely use medication.
Do you know your medicines? Do you keep a list? Can you describe and discuss your medicines with healthcare professionals and family when you want to?
We all need to take medicines at some point in our lives, and medicines can have a positive effect on our health when used as intended. However, mistakes with medications can occur and many of these mistakes are preventable.
Everyone involved in managing medication has a role to play in improving medication safety. This applies especially to patients, as they are usually the first to notice any side effects from their medicines.
The World Health Organisation (WHO) has set a goal to reduce severe, avoidable harm related to medicines by 50% globally in the next five years through their programme 'Medications without Harm'.
What can we do to achieve this? Know Check Ask is a campaign from the Health Service Executive (HSE) which aims to promote more active participation from people in managing their medication.
Following recommendations from this campaign can help you to manage and safely use your medicines.
Know your medicines and keep a list
One of the main recommendations of Know Check Ask is to keep an up-to-date list of your medications. This will help everyone involved in your care and reduces the chance of errors.
You should include all medicines:
creams
eyedrops
injections
inhalers and patches
medicines you only need to get every few months
medicines that you buy without a prescription, for example, herbal remedies or vitamins.
Make sure to list any allergies you may have. It is important to keep your list up-to-date and to put a line through any medicines that have been discontinued.
You should bring your list with you when attending appointments with any healthcare professional, including your GP, pharmacist, outpatient or emergency department, public health nurse or dentist.
It may be useful to keep a photo of your medicines list on your phone or to take a photo of your medicines with the labels in full view. You might also like to give a copy to a family member or carer.
The HSE's My Medicines list is a useful template for a medication list. You can print the My Medicines list here.
If you are a service user here at St Patrick's Mental Health Services (SPMHS), you can keep a personal list of your medication in the 'Medicines' section of Your Portal.
Check you are using medicines safely and correctly
Using medicine safely
It is important to follow the instructions that come with your medication carefully. Directions for use are printed on the pharmacy label. You can get more information about how to use the medicine and who it is suitable for in the patient information leaflet that comes with your medicine.
Don't ever take a medication that was prescribed for someone else, or share your medication with somebody, even if they have the same condition as you.
Store your medicines safely out of the reach of children. Return any expired, or out of date, medicines to your pharmacy as these may not be effective and, on rare occasions, can cause toxic effects.
Obtaining medicine safely
Ideally, get all your medication from one pharmacy and prescribed by the same doctor. This reduces the risks of medication duplication and of taking medications that may interact with each other and lead to side-effects.
Do not buy prescription medications online, as there is no way of knowing if these medicines are genuine, safe and effective, or what conditions of quality or hygiene they were produced under, even if they look the same as the medicine prescribed for you. In Ireland, it is illegal to supply prescription medicines online. You should only buy your medicines from safe and trusted sources, like your local pharmacy.
Being aware of side effects
Many people will not experience problems when taking medicines, but all medicines have associated risks and some people may develop side effects (also known as adverse effects). These are unintended effects from the medicine. In many cases, they will be mild, and it will be safe to continue to take the medicine. In some cases, they may be more troublesome or serious, and it will be necessary to make a change or stop the medicine. In rare cases, you may need additional medical treatment.
It is important to consider and discuss with your prescriber the potential risks (including side effects) of a medicine, alongside its benefits to your health or condition, so that you can make an informed and balanced decision about what is best for you.
The package leaflet for a medicine will tell you about the chances of developing a side effect. Some side effects may develop immediately, while others may develop gradually or appear much later in your treatment. You may notice some side effects initially when starting a medicine or increasing the dose and then find that they settle over a few days or weeks.
If you are concerned that you might be experiencing a side effect, contact your doctor or pharmacist, who can advise on whether you need any medical care and whether you need to change or stop the medication.
For additional information on your mental health medicines, including leaflets and fact sheets, Choice and Medication is a very useful website developed by pharmacists working in mental health.
Ask if you're unsure about your medication
Ask your doctor, pharmacist or nurse if you have any questions relating to any aspect of your medication. For example, your questions might include what time is best to take it, when to stop your medication, or what is the correct technique to use with your inhaler. They will be happy to help you become more informed, and this will reduce the chance of mistakes with your medicine.
The times of highest risk of errors with your medications are on admission and discharge from hospital, so these are important times to ask if you are unsure of any changes to your medication.
It is also really important to communicate your experience with taking your medicines, and any worries or problems you are having with them, to your healthcare provider. For example, they can help find the best solutions for you and ensure that any changes are made safely if:
you find it hard to remember to take your tablets at the right times
you are concerned about the cost of a medicine
you want to reduce or stop a medicine that is causing side effects or that you feel you don't need.