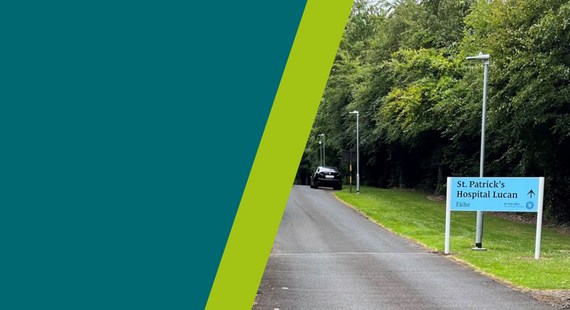 New signage has been erected at our campus in Lucan, County Dublin to reflect the hospital's official name change.
St Patrick's Mental Health Services (SPMHS) has added new signs for "St Patrick's Hospital Lucan" at our inpatient hospital in Lucan.
The addition of the signs comes following an official change in the hospital's name from its former name, St Edmundsbury Hospital. The name change has been introduced to reflect how the hospital is an integral part of SPMHS and to reassure our service users and their supporters of the high quality mental healthcare they can expect to receive there.
History of our Lucan campus
SPMHS was founded in 1746 at the original St Patrick's University Hospital site in Dublin 8. Throughout the 19th century, the hospital grew significantly, requiring a number of extensions. By the 1870s, there was a growing demand for mental health services and a recognition that further space for delivering inpatient mental healthcare was needed.
In 1898, SPMHS acquired a Georgian house, St Edmundsbury, set in its own grounds in Lucan. SPMHS refurbished and used the house over the following years to offer care for service users, along with recreational facilities, such as communal areas and a tennis court. For some time, a working farm on the St Edmundsbury grounds also provided food for the hospital.
In the 1980s, the hospital was extended with modern, purpose-built accommodation, adding more than 40 rooms, with the original house then being renovated to enhance the facilities available.
Today, our hospital in Lucan is a 52-bed facility, providing a wide range of mental health services, including inpatient care and day programmes, and outpatient Dean Clinic community services catering for a wide range of mental health difficulties, including anxiety, depression, alcohol/chemical dependence, dual diagnosis, the mental health of older adults and bipolar disorder.
Watch a short video on our history
Take a tour of St Patrick's Hospital Lucan