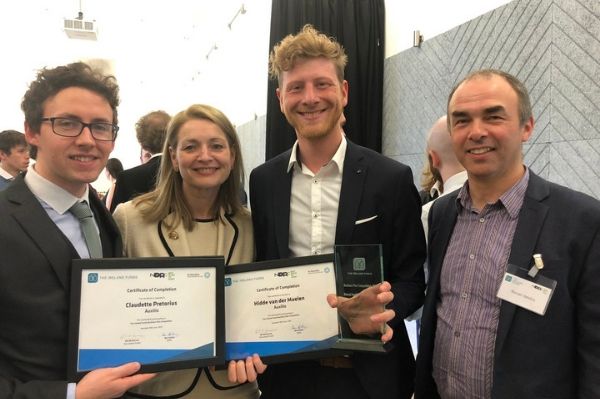 St Patrick's Mental Health Services (SPMHS) is delighted to announce Auxilio as the winners of the inaugural €5,000 prize fund for digital mental health supports in the Ireland Funds Business Plan Competition.
The Auxilio team, based in University College Dublin (UCD), designed an application which provides support between sessions for those currently attending a therapist for mental health difficulties. The application complements structured therapeutic interventions during moments of stress or crisis in an easily usable tool.
The €5,000 prize awarded to Auxilio is sponsered by SPMHS, in partnership with the Ireland Funds and the National Digital Research Centre (NDRC), as part of an initiative to support mental-health focused technology solutions and business plans. The prize forms part of the Ireland Funds Business Plan Competition, which, marking its eighth year in 2019, seeks to nurture creativity and hone entrepreneurial skills among Irish-based start-up entrepreneurs.
The competition was open to university and third-level students and recent graduates across the island of Ireland with technology proposals at a pre-investment stage. Over the course of six weeks, ten teams on the island of Ireland took part in a process which involved exploring their digital ideas, market opportunities and business models, working closely with the team at the NDRC.
Our Director of Digital Health, Orla Gogarty, said: "SPMHS is delighted to partner with the Ireland Funds and NDRC in sponsoring the inaugural special category prize for mental health in this year's Ireland Funds Business Plan Competition".
"We believe that innovative technologies hold enormous potential to support positive mental health and wellbeing by promoting education, valuing prevention and recovery, and enhancing accessible treatment and creative interventions. We hope to build on this positive partnership with the Ireland Funds and NDRC into the future, continuing to extend the range and availability of mental health services and supports and empowering people to live mentally healthy lives."
For more information on the competition and a full list of its winners, please visit the NDRC website.
Tags: The Ireland Funds Business Plan Competition NDRC #IrelandFundsBPC Mental Health Innovators