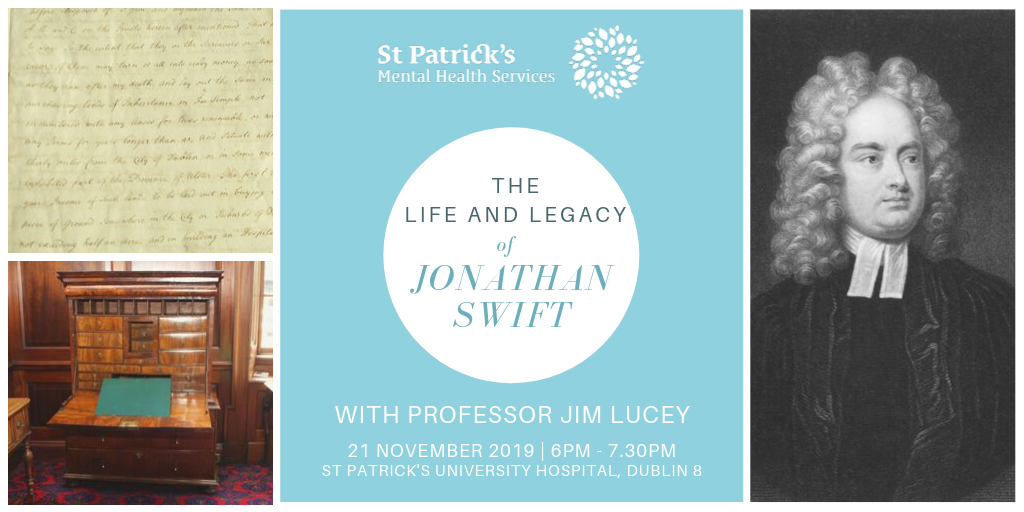 Join St Patrick's Mental Health Services (SPMHS) for Swift Festival 2019, as our Medical Director, Professor Jim Lucey, explores 'The Life and Legacy of Jonathan Swift'.
Swift Festival, now in its third year is hosted by Saint Patrick's Cathedral, Dublin and supported by Failte Ireland, Dublin City Council and UNESCO City of Literature. The festival is a vibrant collaboration between a number of creative bodies and cultural institutions across the city who have a historic or cultural links to Jonathan Swift's life and work.
As part of this, Professor Lucey will delve into our founder Jonathan Swift's incredible footprint, not only on the written word, but on mental healthcare in Ireland.
Swift's generosity and forward-thinking vision of a 'home for fools and mad' left a lasting impact on mental healthcare in Ireland through the creation of SPMHS, the country's first mental health hospital.
Professor Lucey will explore the services' fascinating history, unique ties to its founder, and Swift's continuing legacy in empowering the people of Ireland to live mentally healthy lives.
This talk takes place from 6pm-7.30pm in the Lecture Hall, St Patrick's University Hospital, Dublin 8.
Location