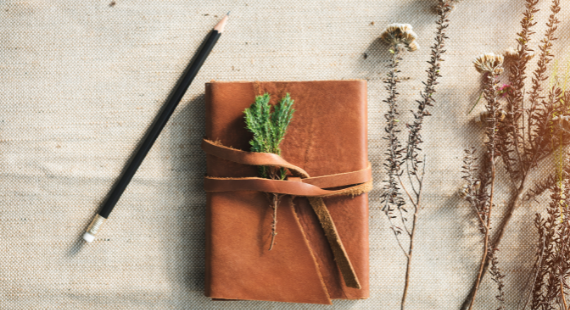 Some of us can find it helpful for our wellbeing to take a few minutes at the end of a day and think back on how we feel it has gone. Paula from our Service Users and Supporters Council (SUAS) talks us through her daily reflective practice.
Looking back to move forward
In addition to using a lightbox and practicing mindfulness, I have found a form of reflecting on the day just passed very helpful.  It was recommended to me by a friend of mine, and I do it daily. The idea is to go over the day - say before going to bed, or before taking medication if you are using it - to think about its plusses and minuses.  We'll call it 'the reflection' and, just like mindfulness, 'the reflection' can be done anywhere. 
The idea is to get value from your day, acknowledging your victories in the day just gone and considering how you can improve things for yourself for the day ahead. In a sense, it's like nurses on a ward handing over to the next shift: they know exactly what was done and what to do next. They have the advantage of looking back, so they can make decisions going forward; this improves things for them, so they can improve things for you. Your reflection about yourself can be just as effective. 
Practicing the reflection
To get started, take out a notebook and pen, and sit somewhere quiet.  Then, look back over your day, starting with the morning and moving through the mid-morning, lunch, afternoon, evening and so on. See the day just passed as if you were watching a video.
With the aid of your notebook and pen, ask yourself:
What worked for me today?
What didn't work for me today?
What can I improve on?
If you are receiving mental health care or treatment at the moment, you might find it helpful at this point to make a note about what to ask your doctor, social worker, therapist and so on.
Noting our thankfulness
After asking yourself how your day has gone, note what you are thankful for; personally, I like to address this thanks to my own conception of a higher power, and you can address it to who or what feels right for you.
Say "thank you" at every turn – for example, "thank you for my visitor today" – and then make a note about anything you want to do to follow up on what you're grateful for, such as sending a message to that person who visited you. The thanks for the day just gone and following up on things to do the next day go hand-in-hand; they work together as a single unit. 
Feeling more in control
Looking back on your day makes you both grateful and organised; you're positive and outward-looking on considering what you're thankful for, and, by taking note, you also know exactly what to do the next day. This gives you control.
'The reflection' only takes 10 to 15 minutes, but the rewards are huge: it interrupts the cycle of worry, stops thoughts going around and around in your head, and gives you confidence.  You think of the next day with your notebook in hand, and have a list, however short or long, of things to do.  These things improve your life, and, if you're like me, you need your list to help you remember what to do next.
For me, 'the reflection' is as important as mindfulness. I find that it points you in a new, happy, confident direction. The great thing is that gratitude disposes you to a healthy outlook and strengthens you. 
I believe this practice has changed my life. I get things done. I feel enabled. I am heading somewhere in myself that I want to be. I am not so afraid.  If I am uncertain about a course of action, I can get an opinion: I can consult my mental health team and get sound advice.  
I recommend that you start this reflecting practice after consulting with your team or consultant, and hope you find it helpful; looking back in gratitude is a wonderful weapon against feeling down and a powerful asset on your road to happiness. 
Find out more about service user engagement