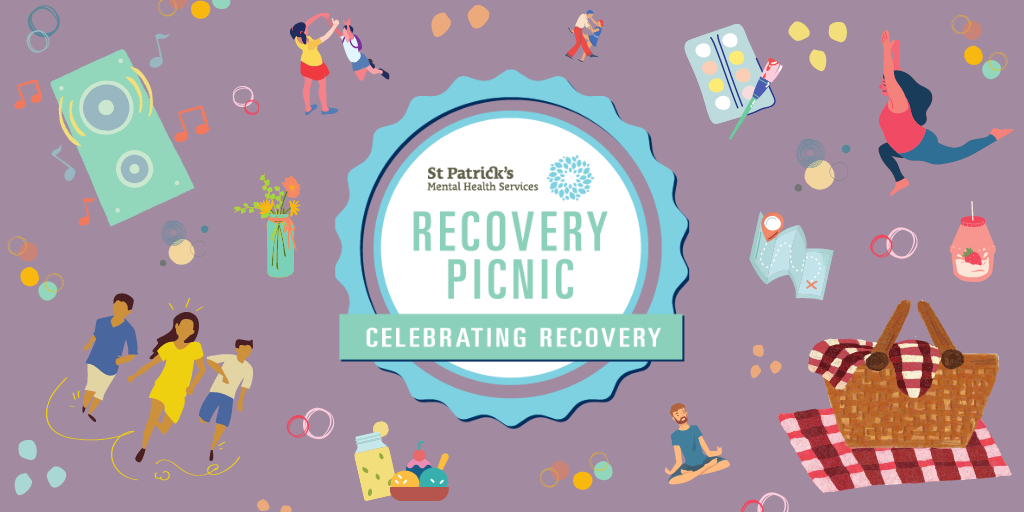 Welcome to our Recovery Picnic - a family fun day that marks our journeys of mental health recovery and the importance of supports we have around us, especially our friends and family, in times of difficulty.
Enjoy a day of fun-filled picnic and wellbeing activities in the comfort and safety of our own homes, gardens or local parks.
Join us as we celebrate mental health recovery together through wellness workshops, mindful activities, fun and creative indoor and outdoor games, mood-boosting recipes, and much more.
Tags: recovery Resilience event
Picnic preparations
Get started by checking out our Picnic Programme and preparing your picnic basket, before trying out all our different activities below.
Wellbeing workshops
Take a few minutes out to relax and enjoy one of the wellbeing workshops presented by members of our team.
Wellbeing activites for young people
Get crafty and enjoy #MindYourSelfie wellbeing activities from our Walk in My Shoes campaign, suitable for all ages.
Mindfulness exercises
Take a few minutes out for our guided relaxation exercises to introduce mindfulness and meditation practices.
These exercises, presented by one of our clinical team, offer body scans, breath work, and relaxation techniques, which not only help to improve our mindfulness, but also enhance our ability to relieve tension built up in the body and mind.
Listen to the exercises here
Family activity packs
Keep the whole family entertained with our fun activity packs for outdoor and indoor games (just in case the weather doesn't hold up!).
You will need some household items to play the games, but not too many  - you'll find all the details of what you need and guides on how to play in our packs below.
Recovery Picnic cards
Our family, friends and supporters often walk beside us on our journeys of mental health recovery, and taking the time to thank them for their support can mean a lot to them. If you'd like to send a message of thanks to someone in your life, you can download our digital cards and social media posts below to let the person know you're thinking of them and that you're grateful for their support.
Picnic playlists
Having the right soundtrack to your day makes all the difference. Whether you want to meditate to some calm music during your wellbeing workshops or to dance to some family favourites, we have you covered with our Picnic Playlists. Click on the links below to open the playlists in Spotify.